Mary Schweikert Griffin, BRLI Class of 1999
Why BRLI?
Mary Schweikert Griffin grew up in New Jersey and moved to Bangor on a whim in 1997, where she worked for the Bangor Region Chamber of Commerce under the direction of Candace Guerette. She credits Candy and Joyce Hedlund of Eastern Maine Community College with being very involved in the start-up of the Bangor Region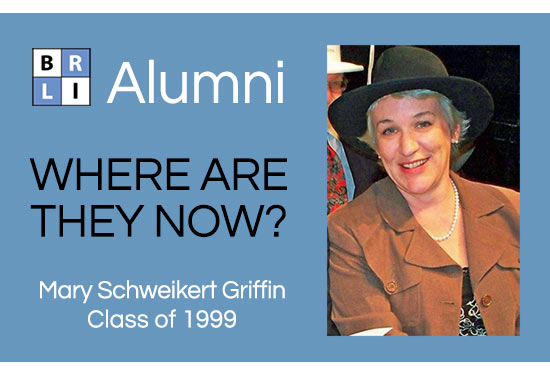 Leadership Institute. She joined BRLI largely because it was her first year of tenure at the chamber and she was asked to be a part of it. She admits that she was a total skeptic. The program was so new, and she didn't want to give away days of her month to dedicate time to something other than work. However, it didn't take long for her to eagerly anticipate the time away with her new classmates. Bonding with them is one of her fondest memories – as well as the direct tether to her community. She went on after that to join the Bangor Daily News as a journalist, working directly with one of her classmates, Mike Kearney.
Where is she now?
In less than a decade Mary had to make the "heartbreaking" move to North Carolina for both family and work. She knew how much she would miss the Bangor community she had grown so fond of. It wasn't long before she met her husband and moved to his old stomping grounds: Detroit. Mary has always had a "bloom where you are planted" attitude and she loves being part of the "historic comeback energy" in Detroit right now. That attitude has served her well, as she is now part of an amazing Global IT and Business Solutions corporation, located right in Detroit. The founder began it 26 years ago and turned it into $350M organization with 32 branches globally. Mary observed that the founder and many of her constituents are "lion hearted" about Detroit and its growth. Mary's team raised nearly $1 million for the Michigan Humane Society's capital campaign to create the new model for Humane Society animal care facilities in the country. According to Mary, businesses and people are coming to Detroit. The culture of her workplace has attracted people that want to be a part of the exciting development.
Mary's advice for the incoming class:
"Don't hesitate! Jump in with both feet. Use the invaluable knowledge and information to learn about yourself and make that lasting bond with your classmates and community."
Thank you, Mary, for the inspiration!
---
Are you or someone you know a BRLI Alumni but aren't connected with us?  
Send us a quick note at [email protected] so we can keep in touch with you about Alumni news, events, volunteer opportunities and more!