You are invited to join us on Wednesday, May 7th in the celebration of honoring the BRLI Class of 2014 and this year's G. Clifton Eames Leadership Award Winner at the Bangor Region Leadership Institute's Class of 2014 Graduation Ceremony & Alumni Dinner. Catch up and network with your fellow alumni and join us in honoring local leaders.
Tickets are $35 per person (free for children 13 and under) and can be purchased online by clicking here. You may also call 947-0307 to purchase tickets over the phone or RSVP to [email protected]
Agenda:
5:00-6:00pm
Social

6:00-6:30pm
Dinner

6:30-6:45pm
Welcome and Recognition of Outgoing Chairs
 6:45-7:15pm
Class of 2014 Nonprofit Partnership Presentations:
Ronald McDonald House 
7:15-7:30pm
Bestowal of G. Clifton Eames Leadership Award
7:30-8:00pm
Graduation Ceremony
 We hope you will be able to join at the Hilton Garden Inn as we welcome another 23 members into the BRLI family.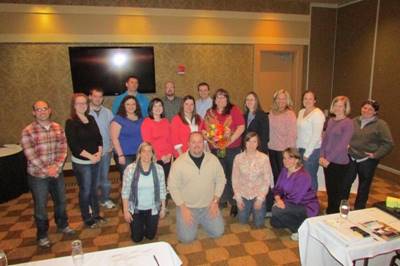 Congratulations to the BRLI Class of 2014
Justin Allen, Employee Health Solutions
Abbie, Armstrong, Coffee News
Cynthia Bergin, Camden National Bank
Lee Anne Boutaugh, Machias Savings Bank
Laurie Bragg, Codman Community Farms
Jessica Corson, EMHS
Tony Crews, Camden National Bank
Chad Desjardins, Katahdin Trust Co.
Robert Freese, Morgan Stanley
John Gibboni, Hollywood Casino
Nicole Gogan, City of Brewer
Kate Grover, Bangor Region Chamber
Michelle Hale, Maine Career Connect
Kristen Holland, Bank of America
Ryan Johnson, Maine Savings Bank
Christopher Klenk, Key Bank
Courtney O'Donnell, Bangor Area Homeless Shelter
Kelly Pearson, EMHS Foundation
Jillian Piehler, Sutherland Weston
P. Coney Quinn Jr., People's United Bank
Stephanie Shayne, Husson University
Jennifer Therrien, Challenger Learning Center
Melinda Wood, Maine Network for Health