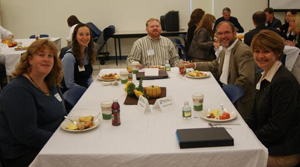 Thursday, October 2nd, 7:30-9:00 AM
Eastern Maine Community College, Rangeley Hall
Keynote Speaker: Deb Neuman
$20 Admission – RSVP Here
Reconnect with your classmates and other BRLI alumni, and meet the class of 2015 at the Annual Alumni Breakfast. It's important to give the incoming class a generous and warm welcome! Let them know what it's like to be part of the BRLI family.
We are fortunate to be joined by Deb Neuman, an economic development specialist, entrepreneur, and media personality who will be giving the keynote address. Additionally, BRLI will bestow its Gary J. Creaser Volunteer of the Year Award, which is given to a BRLI alumnus who is a model volunteer and has made outstanding contributions to the BRLI program. To guarantee your spot at the alumni breakfast, please RSVP Here or call 207-947-0307.