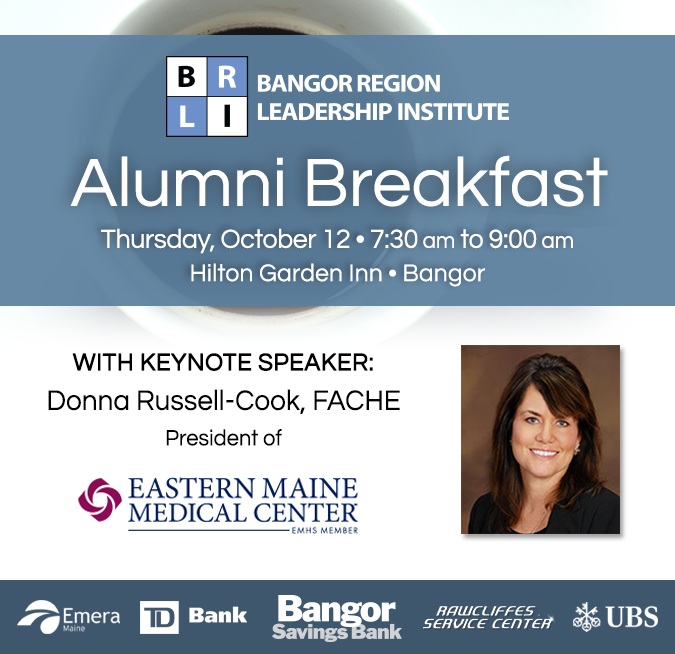 Bangor Region Leadership Institute is excited to announce that Donna Russell-Cook, President of Eastern Maine Medical Center, will be the keynote speaker at the BRLI Annual Alumni Breakfast on Thursday, October 12th. The Annual Alumni Breakfast is the inaugural event that kicks off the Class of 2018 curriculum year.
Donna Russell-Cook has more than 25 years of experience in healthcare administration, working in physician practice, for-profit and non-profit organizations, and health systems. Donna is a fellow in the American College of Healthcare Executives (FACHE).
In 2009, Donna left her first position at EMMC to become CEO of the Oklahoma Heart Institute in Tulsa, Oklahoma. After a couple of years in the south, Donna headed to the Pacific Northwest. In 2012, she left Tulsa to become Hospital President and System Service Line Executive for CHI-Franciscan Health in Tacoma, Washington.
In Washington, she was awarded the American Hospital Associations Grassroots' Award in 2015 for her tireless efforts at the state and federal level advocating for hospitals in rural and urban settings. After making her mark in Washington, Donna returned to EMMC in July of 2015. She was appointed President in October 2016. She fully transitioned into EMMC's top leadership in July 2017. BRLI is honored to have her joining us at our Annual Alumni Breakfast.
Bangor Region Leadership Institute's Annual Alumni Breakfast will be held at the Hilton Garden Inn in Bangor, Maine from 7:30 am to 9:00 am. Tickets are $20 per person and can be purchased here. This event is made possible through the help of BRLI's corporate sponsors, Bangor Savings Bank, Emera Maine, UBS Financial, and TD Bank, and event sponsor, Rawcliffe's Service Center.